Easy Lunettes®, a Group Diffus'Est activity.
Easy Vision Treatment of surface inventor and manufacturer, we have developed it at first for protecting and maintaining our anti-burglar transparent polycarbonate curtain.
Then, once we discovered that this Treatment of surface worked perfectly on the glass, we primarily proposed it to the regional cleaning companies. After having tested it they all answered us that this technology scared them with its efficiency due to the fact, according them, "the more it's dirt, the more they work !" Therefore, they unanimously rejected it.
Then we realized, following the frightened reaction of the cleaning  professionals, that there was a very interesting market to develop.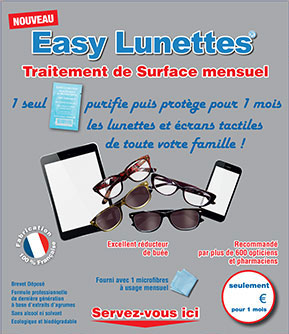 Thus that's why, in january 2007, we, the manufacturers, have put all intermediaries aside and decided to directly develop this "sustainable Treatment of surface technology" with the final user, by putting in place an in charge of applying the Treatment first technician.
At last, an innovative technical solution compared to more or less efficient classical glass ways of cleanings was proposed on the cleaning market !
Today, we have established a commercial and technical structure over the french "Grand Est" of more than 25 persons and get more than1 500 customers, with about regularly cleaned 60 000 squared meters.
Our company was 5 times Paris Concours Lépine and Brussels Eureka exhibition awarded, exhibitor on electronic protections and mechanical closures big international exhibitions, French ANVAR subsidized, with to its credit several INPI registered patents.
Enregistrer